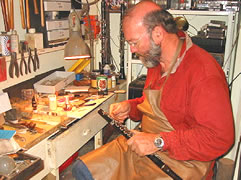 Chris and the art of Musical Instrument Repair
Chris McNeilly repairs musical instruments:
Flute and piccolo
Saxophone - soprano, alto/tenor, baritone
Bassoon
Oboe
Brass instruments - horn, trumpet, cornet, trombone
String instruments - violin, viola, cello, double bass
Piano tuning
He also makes instruments, specialising in Northumbrian pipes, hurdy-gurdies and components such as chanters and drones.
Chris has now been appointed Honorary Local Representative of the Associated Board of the Royal Schools of Music for Folkestone. Contact him for information on local ABRSM matters.
He teaches pipes, saxophone and wind instruments up to Grade 8 of the Associated Board.
Chris accepts commissions from UK and Europe for custom-built pipes and components. Please contact him to discuss a quotation.